TenCate Outdoor Fabrics introduces a new and colourful collection for sun awning fabrics.
Introducing
The Freedom Collections
Utilizing our expert knowledge in polyester sun awning fabrics, we have specially developed the bespoke Freedom Collections for the European market. This new trailblazing collection is setting us apart with surprising colour combinations and stylish designs. It is a real game-changer for the way you experience shade. Making it more colourful and atmospheric than ever before!
Double sided possibilities
You can choose a fabric which differs in colour on either side of the fabric. The result being a beautiful neutral appearance on the outside with an impressive light experience on the inside.
Discover the unique features
Colour-weather fastness 7-8
Water repellent
Easy to clean
Exceptional protection against UV
Protection against dirt, rot and mould
New patterns with digital printing
Thanks to our advanced technical capabilities, we have developed this unique collection which combines recognizable patterns with new styles. Combinations which were previously not possible, are now part of a whole array of options.
Design and ambiance
The Freedom Collections is a blend of ambiance, design and new structures. When designing the collection, we have taken into account both modern preferences and the rich offerings from the existing sun awning fabric market. Elegant traditional solutions have been tastefully incorporated into new and recognizable structures.
How it's made
Through our wealth of experience at TenCate Outdoor Fabrics and keenness to innovate, we have developed a new sun awning fabric. Durability and colour fastness are always key to the technical design of our products. Due to its light composition, our fabric is suitable for various sun awning systems.

The basis for our fabric in the collection is a textile substrate of polyester. The fabric undergoes multiple production processes. During each process, the focus is on a different functionality, resulting in a fabric with several unique properties.
Do you want
to be different?
Get in contact. Send an e-mail
Cube Charcoal

This must-have 'charcoal' colour is a mix of grey and black; an elegant neutral background colour. The 'ice cubes' create a playful effect for those looking for something a little different.

Euca Sand

A sense of relaxation is created with delicate branches and shimmering shadows. This reassuring sand colour enhances a sense of tranquillity by forming a connection with nature.

Cambric Metal

The fine-threaded weave of this design emanates a translucent effect. Combined with this deep grey tone, this awning fabric creates a tough but neutral 'look & feel'.

Cotton fields Ochre

Cotton is inextricably linked to textiles providing the awning fabric with an authentic character. This trend colour creates a feeling of warmth on a hazy summer evening.

Bristle Scarlet

Flame Scarlet is since the ancient times known as a colour of wealth and luxury. An Irresistible warm appearance radiates through the brush effects of this awning fabric.
Total


collection

The Freedom Collections consists of 129 unique items.
Want to see all items? Fill in the form and get your digital sample book!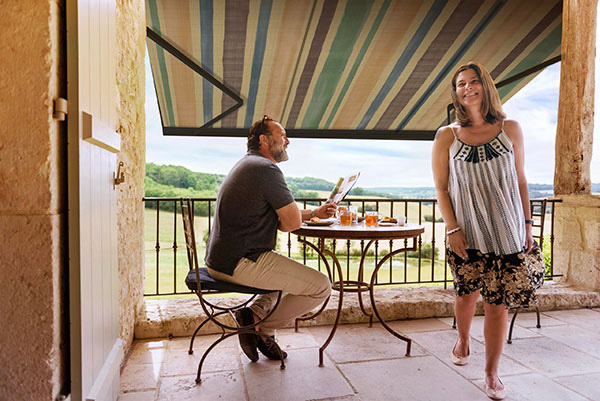 Customer case NYFAN – Greece
NYFAN is a producer and supplier of sun awning systems that focus on the growing need for protection against sun and rain. In this customer case, we take a more in-depth look at the collaboration between sun protection solutions from Nyfan and the sun awning fabric from TenCate Outdoor Fabric.
> read more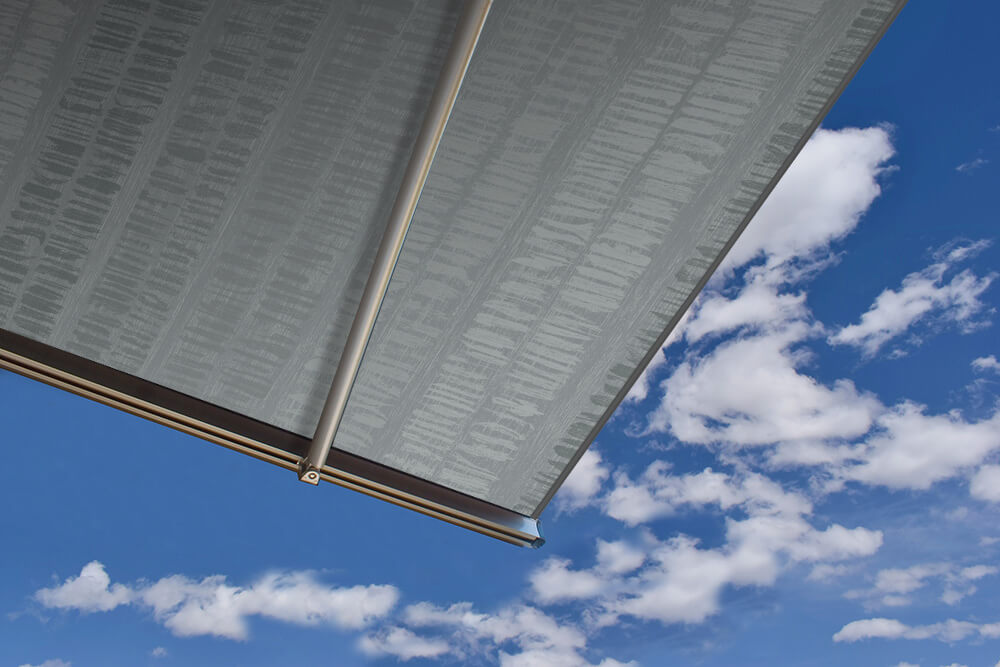 Feel for real?
Get your preview package here!